Mobile Friendly Websites – The Time to go Mobile is Now
Statistics shows that one in every five owned smartphones globally and one in every 17 owned tablet. Over 50%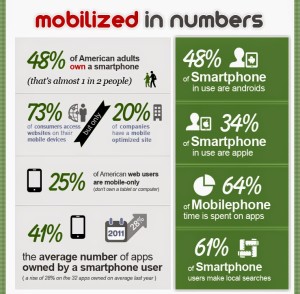 internet searches are performed in smartphones. And 92% are now searching locally. In 2014, mobile surpasses the fixed online access such as PC's.
Do you want to leave that entire potential customer?
When your online visitor tries to visit your web site from their mobile devices, what impression do they leave with? Can they locate the information they want? Is there an easy way for them to contact you?
A recent Google survey of mobile users found that 72%of mobile users say it's important to them that websites are mobile-friendly, yet 96% have visited a site that doesn't work well on their device.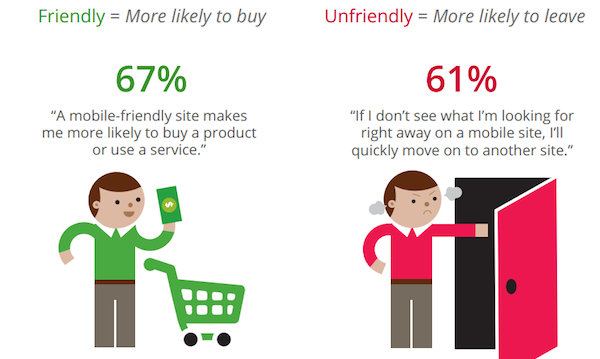 Other factor to consider:
Globally  there are 4 billion mobile device users
smart phones users, 08 billion
50% of local searches are carried out on mobile devices
86% of mobile Internet users are using their devices while watching TV
700 million users of Facebook and 1/3 are using Facebook Mobile
175 million users of twitter and half of it are using Twitter Mobile
Looking at these statistics it is very surprising how many websites are not yet mobile-friendly. In cases where businesses have embraced the mobile web a surge in mobile traffic has been experienced.
Why should you have a mobile friendly website?
1/3 Online Traffic Is Mobile – According to study that in 2014, mobile traffic surpass desktop traffic. Due to the drastic growing numbers of mobile device traffic among global internet traffic, it is remarkably possible that if your website is not a mobile friendly website, you are leading your potential mobile traffic to your competitor's site.
Local Business will have an impact in Mobile Friendly Sites – According to study 50% people search local store through mobile devices. 94% people with mobile search local information in USA. Most local business depend mostly on word-of-mouth marketing, be aware also of the dynamic mobile development of your local clientele too. According from the study above, you must take into consideration the increasing usage of smartphone in searching a local business and with mobile friendly websites aid it.
Consumer spent more on mobile that other devices – People spend more time in smartphones than television. They spent most of their time in personal activities such as Facebook, instagram, twitter and other social media. It is suggested to make your website a mobile friendly.
Google Click-to-Call Feature made easy To Contact Businesses – 94% said they need to call a local business directly in their smartphones when looking for info. Regardless of Google click-to-call feature. Study shows that mobile users are searching for an eye-catching call button on your mobile friendly website. Business does not have the Google click-to-call button; mobile user will look for other websites that have this calling option.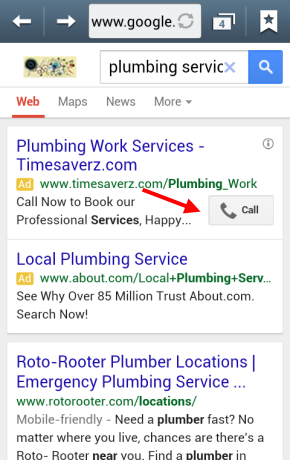 Uprising of Mobile Advertising – In 2013, the revenue of mobile advertising almost doubled. Digital Marketers looking for ways and ideas to communicate their marketing messages to their targeted customers through smartphones display advertising, social media advertising and also in mobile applications advertising. Mobile friendly website is very important to retain and convert the users that visit your site via this advertisement.
The Time to go Mobile is here: put the advantages of having a mobile friendly website to work for you today. Please get in touch with us to address these issues. JNB web promotion can help you build a mobile marketing strategy and we will make sure your websites meets the needs of the user. For any question regarding about mobile SEO, mobile friendly website or responsive design, please do contact us.
If your website that you have tested using the Google mobile friendly tool and you are worried about, Contact us at [email protected], we can fix it to comply and resubmit it to Google.