SEO Packages
Search engine optimization pricing 
Regardless of the search engine marketing package you choose, JNB WEB PROMOTION will always work within stringent search engine guidelines to ensure that your website is optimized using only ethical search engine optimization methods. We adhere strictly to Google's policy regarding SEO's search engine optimizers.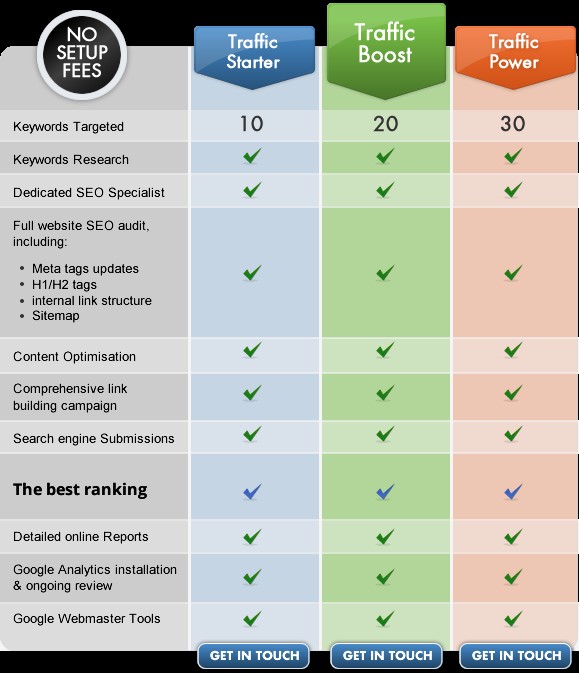 Stage 1 – Analysis
We do an SEO Analysis of your current website and that of your opponents to look at the feasibility of both optimizing your present website OR building a brand new one to you. You're supplied with a complete report in your SEO choices at the conclusion of the stage.
Stage 2- Search Engine Optimization Maintenance
Once a few months have passed you can start to measure the success of one's site. From here we offer you a study at the conclusion of every month on: and undertake a course of regular SEO upgrades to your site
Your Search Engine Optimization position
Duties Complete for the prior month
Suggested duties for the next month
In today's busy and ever moving web atmosphere it's essential to think about your site as still another sales channel, that requires to be preserved and committed to for success.
Performance Guarantee
Search Engine Optimization (SEO) which is also known as Natural or Organic Search, it's the most beneficial and effective method to achieve high return of investment (ROI) on your marketing investment.
Therefore, to be rest assured that your search engine optimization experts are a pro in what they do, we at JNB WEB PROMOTION are more than confident about the agreed results, we help you with achieving and claiming the Performance Guarantee.
JNB WEB PROMOTION's Performance Guarantee – JNB WEB PROMOTION service will deliver with a 12-month agreement together with a 6-month performance guarantee. If top 10 rankings are not delivered for a minimum 50% of selected key phrases in Google Australia within first 6 months of SEO service implementation, no further fees are payable until this goal is reached.
Search Engine optimization with a Proven Track Record of Success
JNB WEB PROMOTION has been the leading search engine optimization agency since 1998. We built our company and reputation by helping our clients generate more traffic to their websites from the search engines than they ever thought possible. 

Whether your company needs help with SEO, Webdesign, social marketing or SEO training, our experienced team can help you. By integrating each of these innovative marketing strategies we provide you with a customized search engine marketing campaign that is perfectly aligned with your goals and resources.
 
Search engine optimization pricing